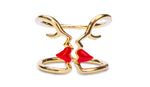 New! Lovely ring and earrings from Paris
Lovely ring and earrings are just arrived from Paris!  
Ring with cute heart-shaped lips...
Can be used in one size fits all, you can wear every fingers ;)
This is a vintage-like hand motif earrings, we love hand motif so much!
These ring and earrings are made of brass and 3 micron gold coating.
You can check these cute jewelries here!