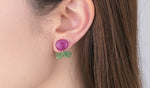 Fairy earrings wearing image
Many new items from the popular <bohem> Fairy Collection have arrived!

The Fairy Collection uses natural stones and the combinations are so diverse that it is almost unique.
The color matching is colorful and the appearance is very cute! However, it is a cute design when worn. A small natural stone can be seen from under the earlobe, and the size is not too big and not too small. It's nice to be able to use it everyday because it's not overwhelming.
【pierced earrings style】 It is possible to remove the bushy parts of small stones. You can wear it with only natural stones, or you can use it with your pierced earrings.
London blue topaz x Baroque gray pearl
Labradorite x Carnelian, Pink Sapphire, Tanzanite
【clip earrings style】 Even if you don't have a pierced hole, there are clip earrings that look like pierced earrings. Since it uses a soft clip, it feels good on your ears and does not feel oppressive.
Ruby x Green garnet
Carnelian x Pink sapphire, carnelian
Lapis lazuli x Pink opal
By the way ...
Fairy pierced earrings can be divided into natural stone pierced earrings and bushy parts like this.
Coordination example of using London blue topaz separately.
Even if you have one pierced hole on each side, you can enjoy various coordination by matching the ear cuffs.
You can check <bohem> here and we hope you to enjoy it!